LSD party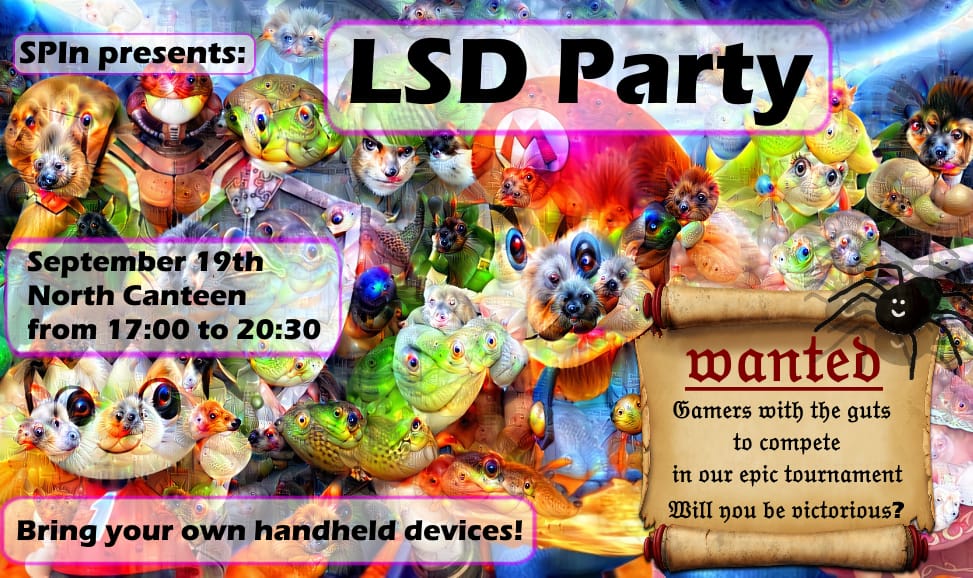 To register, you must be logged in
Location:  North Canteen
Date:  Monday, September 19, 2022 17:00 until 00:00
Have you been studying hard the first few weeks of the new year, staying in the library until 10 o'clock? Then you must be very tired of studying. Luckily, SPIn has your back with a relaxing activity!
Come and join us at the LSD-party (short for LAN & Games Day) where you can play classic games like Mario Kart, Just Dance and Smash! The LSD-party will be held on the 19th of September in the North Canteen from 17:00 till 20:30. There will be multiple consoles, with various games for each of the them. However, don't hesitate to bring your own multiplayer game, or your own handheld devices, as we can only provide so much handhelds for everyone.
As is tradition we will also be organising a tournament of one game yet to be determined. You can sign up for the tournament on the LSD-party for free. The best dueller will win a prize!
We will provide free lemonade, cotton candy and crisps! Of course you can also buy delicious beers.
On the site you can also order pizza to enjoy during this amazing night. (You have to log in to see the enroll option.)
We hope to see you all there!